Finding the right piece of art can be a lot of effort, but there is no greater pleasure than finding art that truly resonates with you. If you are lucky enough to find a piece of art that speaks to you, it can be a little too easy to overlook some of the smaller details, such as the frame or mat that you will use for your piece.
However, if you take a little bit more time to find a frame or mat that fits the piece just right, the art will feel more complete. This post hopes to help you find the right frame and mat for your art, once you have found that special piece.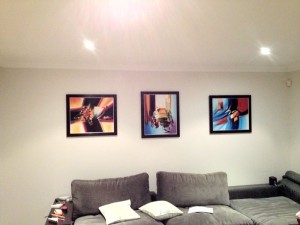 Frames
Frames have long been used as a way to create a physical barrier between a piece of art and the outside world. With that said, a good frame should be able to complement the art in such a way that it becomes a part of the piece itself.
Traditionally, the style or period of frame that you use will match the period of the art being framed. If it is a Victorian piece of art, for example, a Victorian frame is the perfect pairing. Another example is that a family portrait is normally associated with a smoothed wooden frame with golden trim or gold leaf.
Frames come in a variety of shapes and styles, but one of the most defining features is the type of materials used. More often than not, a frame will be made from some type of wood. Some of the more popular types of wood to use are maple, oak, walnut and cherry, as they all have a unique colour and pattern.
Mats
Mats are used for paper artwork instead of canvas, and is perfectly suited to watercolour paintings, prints and sketches. Mats are visible around the edges of the artwork, and are made in a wide variety of colours, styles and materials. Double-matting is a great method of using two mats of different colours to complement the artwork.
Mats are available in three forms – paper, alpha-cellulose and rag mats. Paper mats are the least expensive of the three, but over time the edges will start to deteriorate and turn brown. Alpha-cellulose mats use wood pulp that eliminate the acids found in paper mats that are responsible for deteriorating the art. They are still susceptible to damage over time, though. Finally, rag mats are naturally acid free as they are made from cotton. This type of mat is the gold standard and should never deteriorate, but it does cost a little more.