Got confused or undecided on how to get your prints or paintings done? Keep thinking on how you make it more presentable and attractive, shall I go for canvas stretching or have it on a floating frame?
Here's for you to know what could be better.
People nowadays prefer to have paintings as their main decoration in houses, restaurants, hotels or even cafes. Paintings can relieve stress by just looking at it, they aren't living things but they can take out stress from individuals. However, we can't just have a painting in a piece of art paper or any other materials we can put our paintings on, we can't leave them like that. Most of us loves to showcase our talents in arts by putting them on walls, we love to share and expose them to people. But the question is "how?" We have choices, right? What could be better? Now, Fantastic Framing will give you tips on how you can do it, whether you want it on a canvas stretching or floating frame.
Canvas Stretch vs. Floating Frame
The main purpose of canvas stretching is to have your artwork preserved and prepare it for framing, but you can leave it that way too. Some of us usually have it in a canvas stretched only cause it's more affordable and easier to do. If you also want to have the job done by a professional framer that's a lot easier too.
Is there any way I can do it by myself?
Absolutely yes! You can make your own stretchers in your own way, I know most of us want to learn or do jobs by themselves cause it's more unique and can build self-learning process (depends on a willingness to learn) you can create more out of it without waiting for how many days to get your artworks back when having it done by a professional framer. However, most of us are really busy at work or going on a vacation and don't have much time for that. You can always count on a professional one and leave your artworks done by them it's more convenient and less hassle because you are not going to buy any materials anymore, the only thing you can do is to give your artworks to them and they will deliver it back as soon as it's ready or done.
Is there a possibility I can enhance my stretched canvas and have it framed?
Yes, there is! this is what we called Floating Frame. Enhancing canvas is more durable and effective way in preserving artworks. Because of the frame that secures the canvas, Floating frame is not the same as regular frames we have at home because floating frames are not using glass unlike the regular once. Although having your canvas put in a floating frame is more expensive but I can guarantee that it's worth it. They called this as floating frame because of the illusion they create, when you see a painting on a floating frame it will really show as the painting floating inside on it. But for this one, I can suggest that you have to get this done by a professional framer as they have complete materials for it. This is really perfect as gift ideas too.
Here are sample pictures of Canvas Stretching and Floating Frames
Canvas Stretching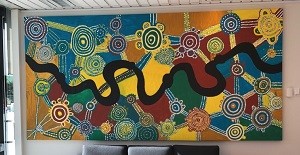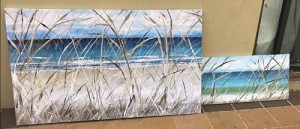 Floating Frames